Part of the West Texas 100 race field.

Some West Texicans admiring Race 83. "Cool forward swept wings". "Look how far back the pilot sits." Hey, it's a tail dragger." They are amazed...
Race Directory Cam Benton, Race 41, gave an outstanding brief.

SARL Top Guns (Ernie Sutter (left), John Huft (hiding) behind Duncan Sutherland) confab on race strategies.

The hard luck award for this race went to Duncan and Carolyn Sutherland who had to leave their SX 300 on the ramp at Lubbock with an engine that wouldn't start - but then drove to the race. That's the spirit!
We'll see you next time, guys!

This is John Huft's translation of the Latin "Veni, vidi, vici" ("I came, I saw, I conquered").

SARL Rookie Race 391 and RV Blue winner.

Cam also welcomed Bob Asxom (leftmost) back into the thick of it.

Post brief, it was "Now go out there and kick the tires and light the fires and Gentlemen, You Have A Race!"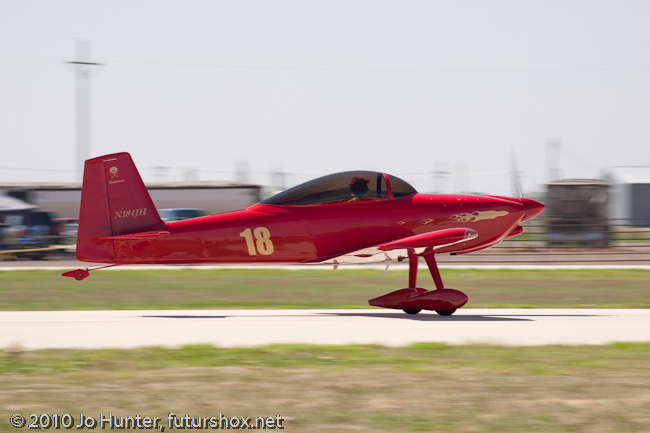 Race 729, Finish!

Post-race and waiting for the scores.
Now I ask you - have you ever seen a happier group of pilots?
All smiles...
John Huft, Race 18, gets the "Best Legs" award. Better put some sunscreen on those, John!

Zodiac belonging to Race Rookie Eric Frische, Race 42T and on whom Cam bestowed the monniker "Caboose".
Eric IS the spirit of SARL. At 104 MPH he was last off, last back, and he had as good a time as anyone!






Left: This was the first year the weather allowed racers to take a side-tour to the Canyon Run. Several did, had a blast, and a link to a video of the whole affair taken by Jo Hunter is available